About Sibu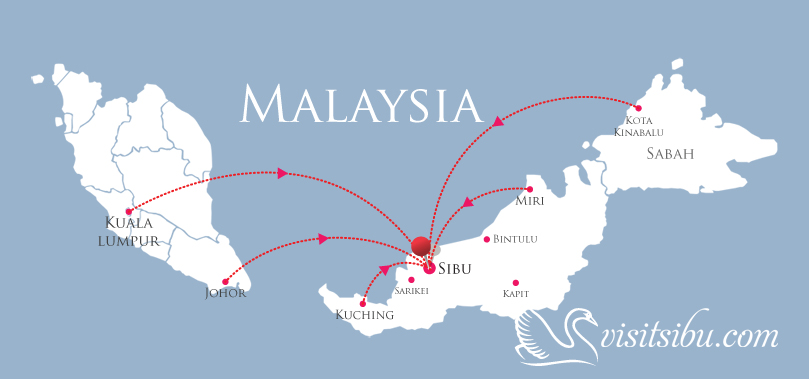 Sibu: culture, adventure & nature
Along the Rajang River, Sibu is a town with a Chinese majority. Sibu plays hosts to thousands of tourists who come every year and also as a gateway for them to the explore the Upper Rajang River where one finds numerous towns as well as Iban and Orang Ulu longhouses along its banks.
Sibu's attractions lie in its numerous recreation parks, a bustling night market, a vast central market and a plethora of delicious local cuisine including Chinese restaurants.
Sibu quick facts:
– Biggest town on the Rajang River in Sarawak.
– Capital of Sibu District
– At the confluence of the Rajang and the Igan Rivers
– Population 200,000
Getting there, half the adventure
From Kuching: The town can be reached by plane (40 minutes), bus (half a day) or for the adventurous who want a great experience, by boat (5.5 hours).
From Peninsular Malaysia: There are numerous daily flights from Kuala Lumpur. Two
airlines operate on this route; Malaysia Airlines and AirAsia. Sibu can also be reached from Johor Bahru.
Hunting for activities
As the main tourist gateway to Iban and Orang Ulu longhouses, Sibu can be used as a base to explore the many interesting villages of the Kanowit, Song and Kapit. These villages can be reached from Sibu by express boats from the Sibu Express Wharf Terminal.
The longhouse experience
A typical warm welcome from the Ibans at their longhouse starts off with a serving of traditional rice wine. Visitors can then enjoy the environment of the longhouse with scenes of vast paddy fields and the Rajang River while feasting on Iban pastries such as Chuan and Sarang Semut. To get physical, one can try out shooting with a blowpipe or weaving a Pua Kumbu.
The hunt for bargains
On the hunt for clothing, souvenirs and other products? Then the Sibu Night Market (7-11pm), is the place to be. Sibu also boasts Malaysia's largest indoor market – The Sibu Central Market, home to thousands of stalls selling everything under the sun.
The local attractions
Other interesting sights and attractions are: the Sungai Merah Heritage Walk, the Tua Pek Kong Temple, the Sibu Gateway, Ku Tien Memorial Garden, Hoover Memorial Garden, Bukit Lima Forest Park, Bukit Aup Jubilee Park and the Sibu Heritage Centre, Rejang Esplanade, Yu Lung San Tien En Si Temple, Chiang Chuan Garden, World Hii Convention Garden, Lau King Home Medical Museum, Bawang Assan Iban Longhouses, Wong Nai Siong Memorial Garden, Lin's Swan Garden, Sibu Civic Centre Heritage Museum, Swan Monument, Sacred Heart Cathedral.